The modern workplace is more than just a place to work; it is also where people spend the majority of their time.
In today's fast-paced business world, companies are realizing the importance of office interior design in creating a productive and inspiring workspace for their employees. A well-designed workplace can have a major impact on employee happiness, productivity, and job satisfaction.
This post will go through a change of office interior design concept, the key factors to consider while developing a productive and inspiring work space.
History of Office Interior Design
Office interior design has undergone a significant transformation since the inception of the first commercial office space in the mid-18th century. Advancements in modern technology, coupled with changing work practices, have played a pivotal role in shaping the course of office design and its relevance to modern-day businesses and their employees.
In earlier times, office interior design was mainly focused on functionality and efficiency, with little emphasis placed on aesthetics or the well-being of employees. It was commonplace to observe long rows of desks and cubicles in an uninspiring and bland environment.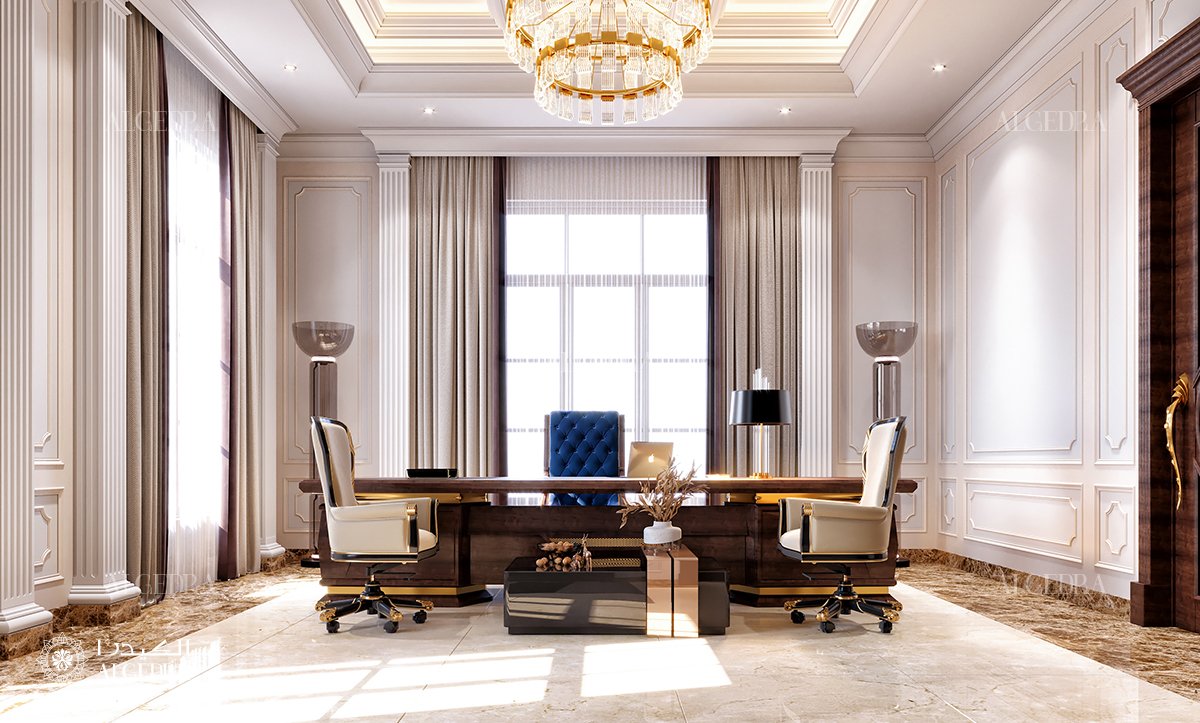 However, with the emergence of the tech industry and startup culture, office interior design has seen a shift towards more creative and flexible design solutions. Contemporary offices prioritize employee needs and offer spaces for collaboration, relaxation, and creativity.
This trend has spurred the popularity of coworking spaces, which provide shared workspaces that promote collaboration and community.
At Algedra Group, we keep abreast of the latest trends and technologies in office interior design to ensure that our clients receive the most innovative and effective design solutions. As Tareq Skaik, Head of Design at Algedra Group, explains, "Office interior design is an ever-evolving discipline, and we strive to remain at the forefront of these changes to provide our clients with exceptional designs."
The key factors to consider

1- Functionality and ergonomics
The first and foremost aspect of designing a workspace is functionality. The workspace should be designed to meet the needs of the business and its employees. This includes proper space allocation, layout, and furniture selection.
According to a study by the American Society of Interior Designers, 68% of employees report feeling more productive in a well-designed workspace.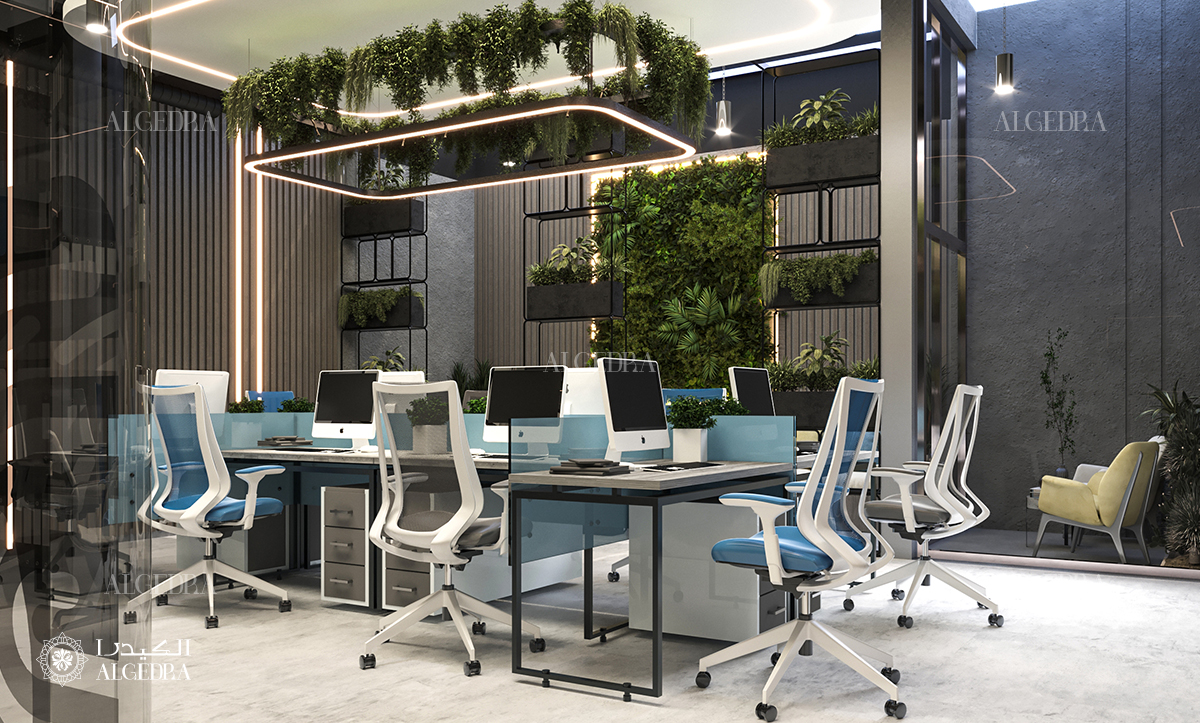 Another key consideration is ergonomics. Ergonomics is the study of designing equipment and devices that fit the human body's needs. A poorly designed workspace can lead to physical discomfort, which can ultimately impact employee health and productivity.
Algedra Designers suggest, "It's important to choose furniture and equipment that support good posture and reduce the risk of injury. Ergonomic chairs, adjustable desks, and proper lighting are some of the essential elements of a functional workspace."
2- Comfort and Aesthetics
Comfort and aesthetics are also crucial components of a productive and inspiring workspace which can reduce stress and improve job satisfaction, leading to increased productivity. In a survey by the British Council for Offices, 97% of employees cited that their workplace environment has a significant impact on their job satisfaction.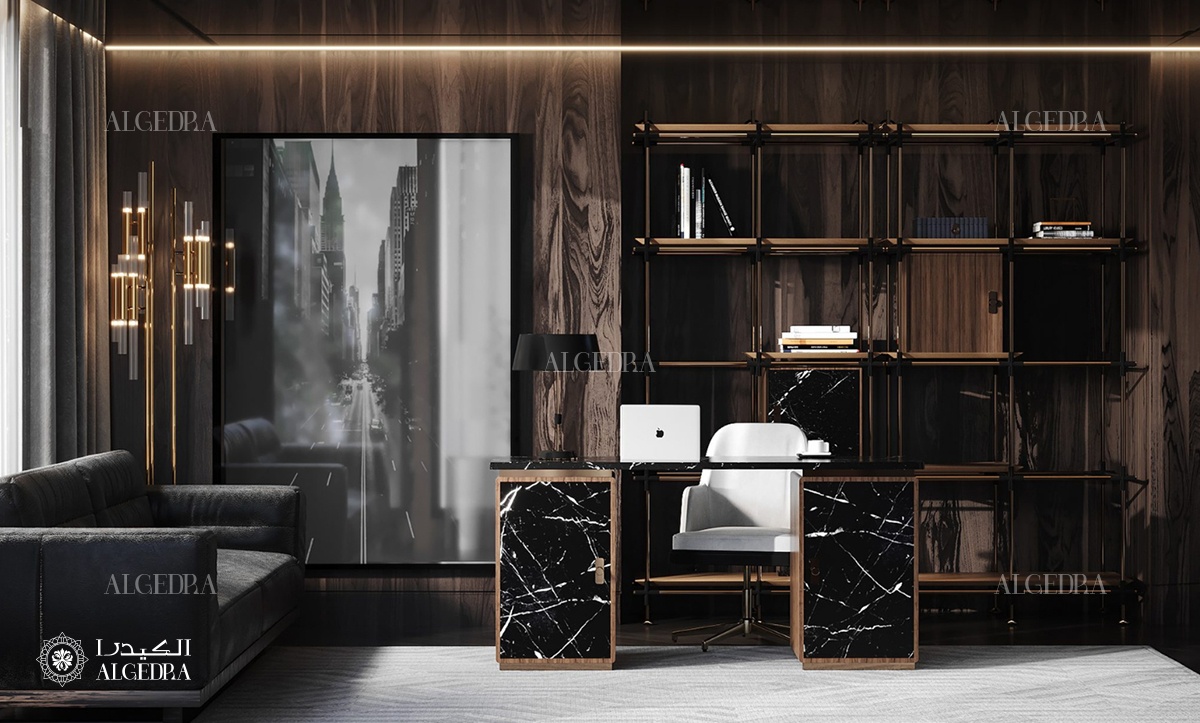 "Choose colors, textures, and materials that are pleasing to the eye and evoke positive emotions," advises Tareq Skaik, Head of Design at Algedra Group.
3- Organization and Storage
A cluttered workstation can be distracting and decrease productivity. As a result, organizing and storage are important aspects of an effective workflow.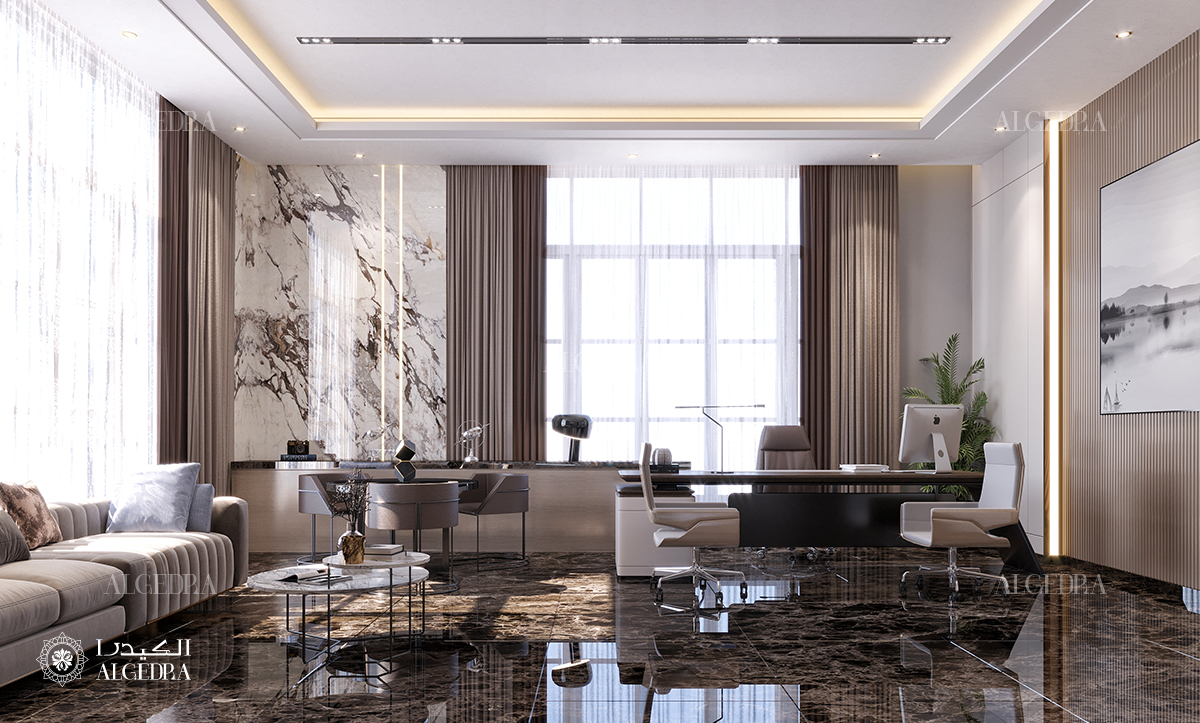 4- Collaboration and Communication
An open and collaborative workspace can foster communication and idea sharing, leading to increased creativity and innovation.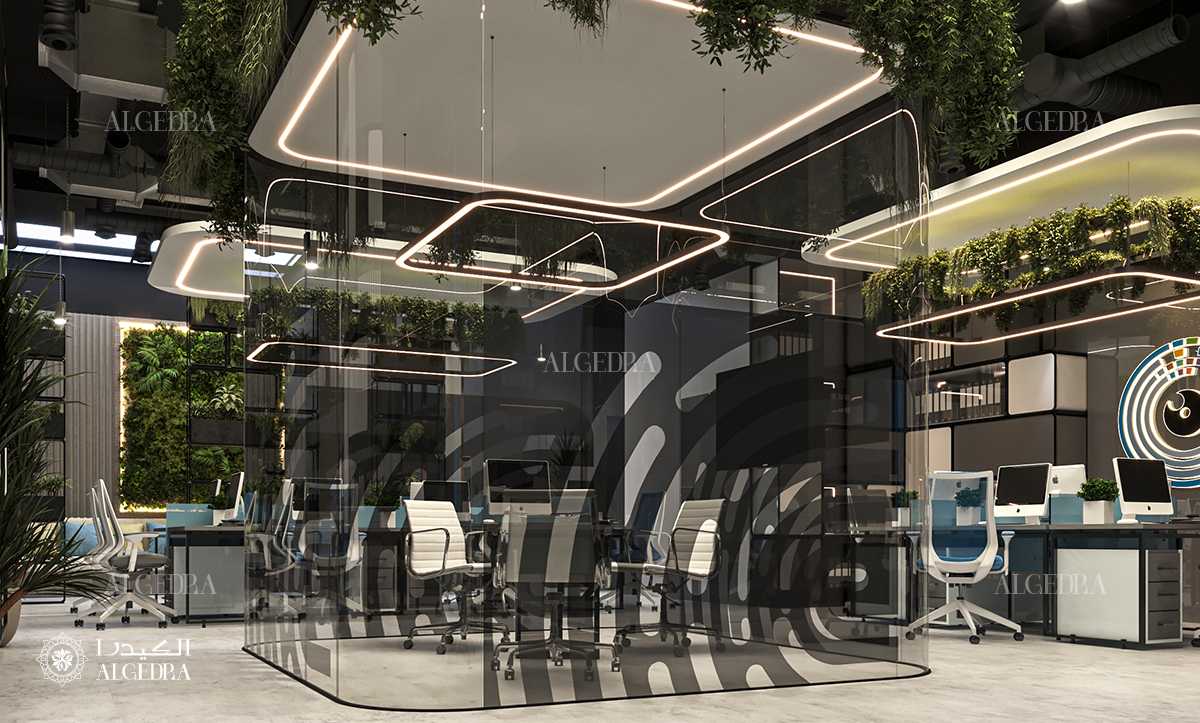 5- Personalization and Customization
Personalization and customization allow employees to feel a sense of ownership and investment in their workspace.
In a study by the International Journal of Workplace Health Management, 78% of employees reported that personalizing their workspace makes them feel more comfortable and productive.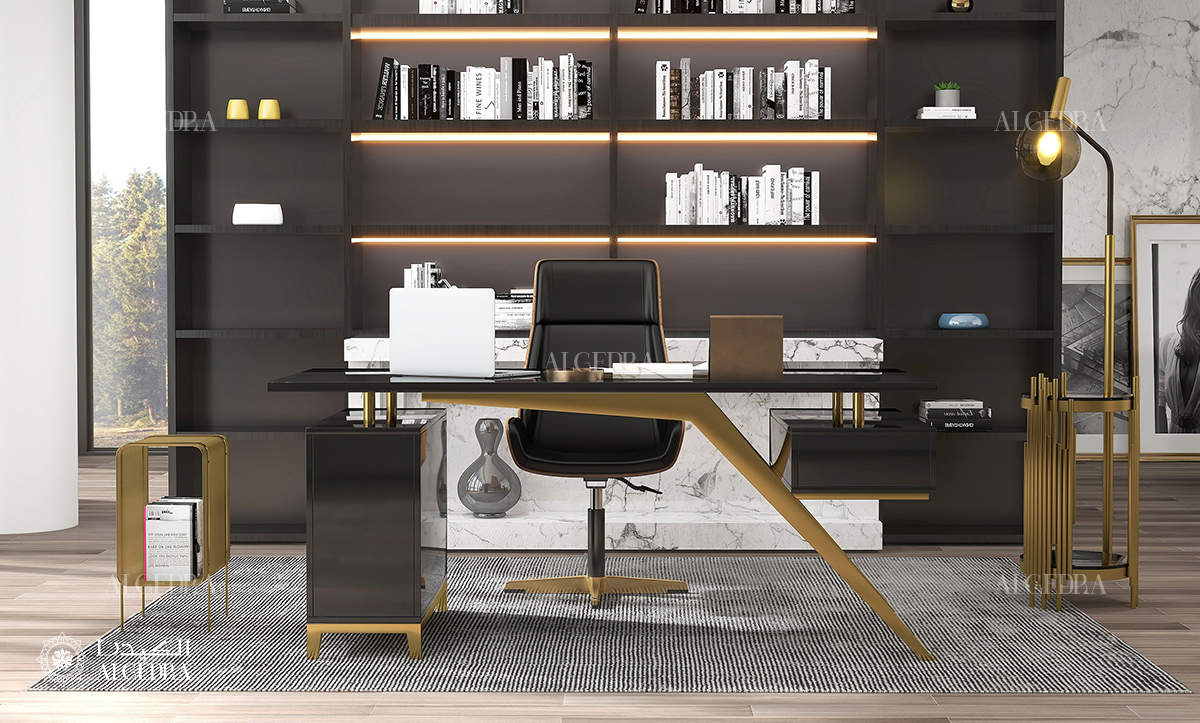 "Provide options for personalization such as artwork, adjustable lighting, and comfortable seating. Encourage employees to bring in personal items such as photos and decorations to make their workspace feel like home," suggests Algedra Designers.
Conclusion
Designing a productive and inspiring work environment requires careful consideration of functionality, ergonomics, comfort, aesthetics, organization, storage, collaboration, communication, personalization, and customization. By implementing these elements, businesses can create a workspace that promotes productivity, creativity, and motivation while providing a comfortable and inspiring environment for employees.
Mohab Ayoub, CEO of Algedra Group, says, "A well-designed workspace is an investment in your business and your employees. By creating a workspace that meets the needs of your business and its employees, you are setting the foundation for success."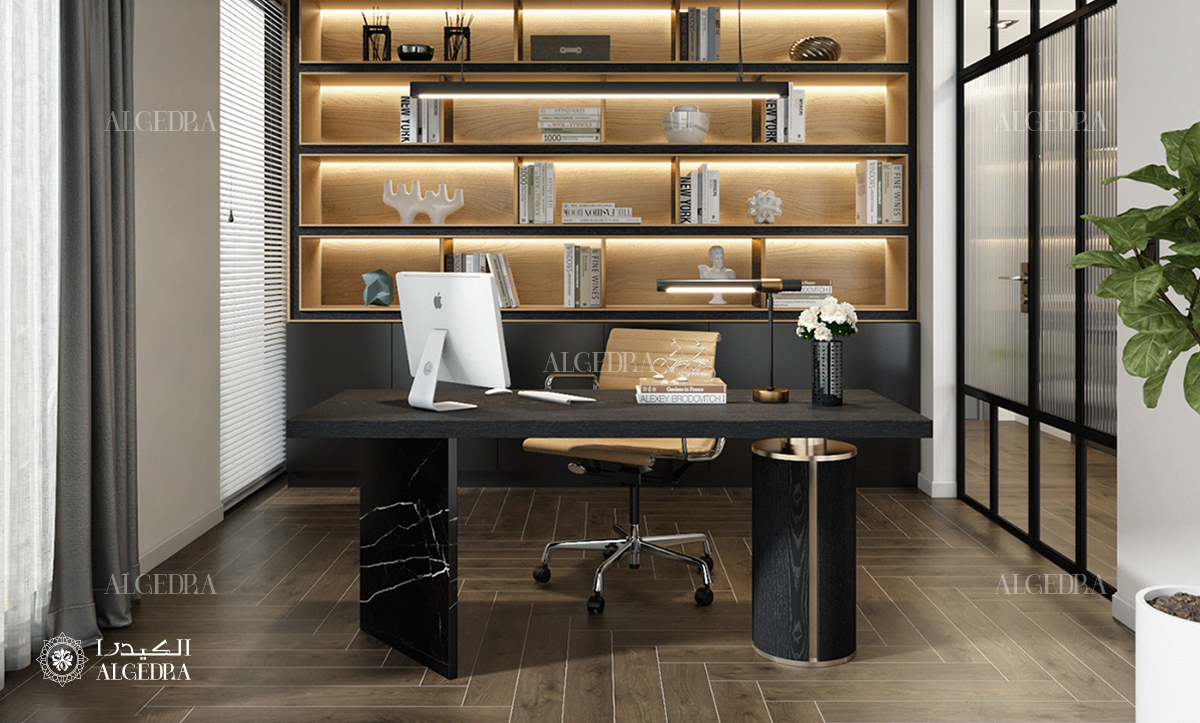 Whether you are looking to redesign an existing workspace or build a new one from scratch, we can help. Our comprehensive design services include everything from space planning and furniture selection to lighting design and artwork curation. We can also assist with the selection of materials and finishes, ensuring that every aspect of your workspace is designed to meet your needs and reflect your brand identity.
If you are interested in learning more about our services and how we can help you design a productive and inspiring workspace, please contact us today. We would be happy to answer any questions you may have and provide you with a customized quote for your project.
Check out our office interior design gallery to find out more.